Article found on https://www.royalgazette.com/rugby/sport/article/20211020/mixed-emotions-for-coach-jamie-barnwell-after-missing-out-on-ran-sevens-final/ written by Sam Murley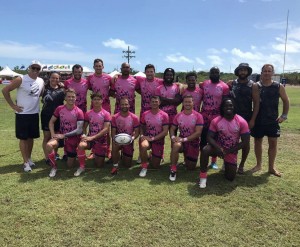 Jamie Barnwell was left with mixed emotions after his Bermuda squad narrowly missed out on an historic placing at the Rugby Americas North Sevens tournament in the Turks & Caicos.
Having secured progression through to the cup competition after topping group C with a 15-7 opening victory over Guyana and a 38-0 thrashing of debutants Belize, Bermuda were placed in pool two alongside British Virgin Islands and Mexico.
Building on the momentum from the previous day, Bermuda brushed BVI aside in an emphatic 41-0 victory before leading the highly fancied Mexico 5-0 heading into the latter stages of the final pool match.
However, a late yellow card ultimately proved pivotal, as with the man advantage, Mexico rallied to score two late tries, sealing a 12-5 win — dashing Bermuda's ambitions of a first appearance in the Rugby Americas North Sevens final.
"Probably the overriding emotion at the moment among the squad is probably disappointment," Barnwell, the coach, said. "However, they've learnt an incredible amount.
"Having finished top of our group having only conceded one try, and beating BVI fairly comfortably, that set up the big one against Mexico, which was our semi-final, essentially.
"That was a big opportunity to do something Bermuda has never done before: get to the final of RAN Sevens.
"To go up against a team like that, who have just come off the World Series circuit playing against teams like Fiji, England and South Africa, and to not only be leading but also look very much in control of the game, was awesome to see.
"However, we got a yellow card with three minutes to go and that proved costly. We hung on for about a minute but unfortunately we conceded two tries right at the death to narrowly miss out on the chance to play in the final.
"With a brand-new team and after only 12 weeks' preparation that would have been a fantastic achievement. I think the players were mostly disappointed because they just knew that it was very much in their grasp."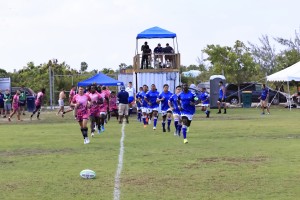 To compound the disappoint, Bermuda also missed out on matching their highest finish of third, after going down to an agonising 17-12 defeat by Barbados in double overtime in the third-place play-off.
"I've never experienced a game like it," Barnwell added. "We scored to go ahead with 20 seconds left on the clock and somehow they managed to restart and score immediately to send the match into what proved two periods of overtime.
"Incredibly, we scored three times in overtime but all three were ruled out for knock-ons or not being grounded, which was crazy. One thing led to another, we missed some chances, made some wrong decisions and were ultimately punished. That is sevens for you, and they are things we will have to learn from."
The squad has no real time to dwell on any lingering disappointment, with preparations already well under way for the New York Sevens tournament on November 27.
"The final two matches were a bitter pill to swallow but I think what the guys will take away is that were right up there as contenders in the region," Barnwell said.
"In defeat we learn a lot and it is a huge opportunity to do just that. The guys have seen they can create all the right opportunities in games and now they just have to make sure they take those chances when they are there.
"We go to New York next month. Six of the core group we had for RAN will be travelling with us and then another six will come in. That will include some new players and others we have had an eye on.
"It is incredibly exciting to give them that opportunity and we can continue to develop the squad as a whole, which is the key thing.
"I have no doubt with the group of players that we have that we will go away and build on this experience."