The Bermuda Police Rugby Football Club [BPRFC] awarded two of its members Club Caps' in recognition of their outstanding services to the club for an extended period of time.
Adam Richards and Mika Tomita were presented the Caps during the BPRFC Annual Dinner awards ceremony held on Saturday, 4 May 2019 in front of past and present club members.
The club said, "Mika also set history for the BPRFC, becoming the first ever female player to be awarded a club cap through her long service and extensive list of accolades.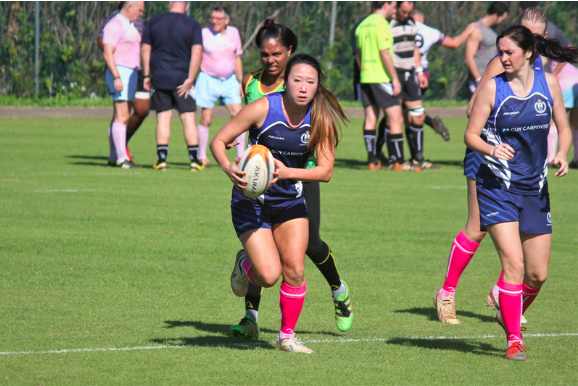 "Mika first joined the BPRFC in 2009 where she won the BRFU Rookie of the Year Award. She has also been awarded the BPPRFC Player's Player of the Year Award 3 times and has also represented the Bermuda National and Bermuda Select Team a combined total of 13 times since making her international debut in 2012. "
Jamie Barnwell, Head Coach Bermuda National Rugby Team, describes her as a "truly professional senior player and a tough competitor whose resilience, physicality and attitude bring essential qualities to any team".
The BPRFC further acknowledged the amount of work Ms Tomita contributes outside of the club helping to grow the presence of Women's Rugby in Bermuda.
The BPRFC believes k Ms Tomita's cap was an important milestone in acknowledging the equal importance of women in rugby and hopes that it will pave the way for further Club Caps to be awarded to other females who play a pivotal role within the BPRFC.
"Adam Richards' club cap marked a fitting end to his playing days as he recently announced he will be scaling back his playing commitments at the conclusion of the 2018/19 season," the club noted.
"Adam, having joined the BPRFC the same year as Mika in 2009, has been a solid foundation in the Men's XV forward pack offering invaluable leadership and mentoring to those who have played alongside him. Adam also served at the Men's XV Captain for a number of years where his greatest accomplishment was winning all league trophies in the 2012 season known as completing the 'sweep'.
"Adam has also been a regular feature on the Bermuda XV National team having represented Bermuda on multiple occasions against Cayman Islands, Mexico, Turks & Caicos, USA South and Jamaica. Adam is now looking to contribute to the BPRFC off the field where he is to assume the role as the Clubs Chairman for the 2019/20 season."