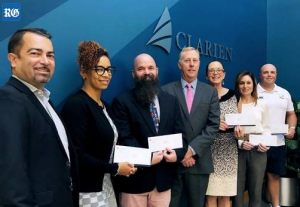 Bermudian charities have been given an $85,000 boost by a bank's donation programme.
The Reading Clinic received $50,000 and the Coalition for the Protection of Children, Tomorrow's Voices and YouthNet were awarded $10,000 each. Bermuda Youth Rugby received $5,000.
The donations from Clarien Bank through its Clarien Foundation were presented by Ian Truran, the bank's chief executive, to the five island charities yesterday.
Mr Truran said: "All of these organisations embody the commitment of The Clarien Foundation in supporting charities dedicated to youth development, education, health and human services.
"We hope that our contributions will help all of these organisations continue their valuable work."
Mr Truran added that the bank also encouraged staff to donate their time to community work.
He said: "We are pleased to report that Clarien employees generously volunteer with The Reading Clinic by reading to young children to support the Clinic's I-Play preschool literacy programme."
The latest cash support follows a $91,000 donation from the foundation to nine charities in March.