Artifle found on royalgazette.com/rugby/sport/article/20211109/bermuda-return-to-world-rugby-classic-with-a-bang/ written by Sam Murley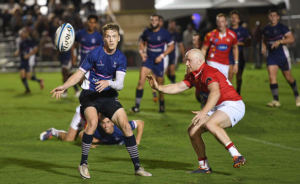 Bermuda announced their return to the World Rugby Classic in style with a commanding 20-5 opening-evening victory over Classic Canada at the National Sports Centre yesterday.
After decades away from the annual event, Bermuda were back with a bang in a display of tactical astuteness and youthful exuberance, which laid down an early marker to their rivals and put them firmly in contention for the title in the four-team round robin tournament.
"What an effort from all the players," said head coach Jamie Barnwell. "What they've just done is absolutely fantastic and all the credit has to go to the entire playing squad.
"The game management was absolutely spot-on. Canada are a big powerful team and play a form of rugby that you have to be prepared to defend properly. It was an unbelievable effort from the team in that sense and I am the proudest coach right now.
"I hope they now all believe because we are in the mix as contenders. It's a four-team tournament, we've arrived and I hope the other two teams will stand up and take notice.
"I didn't really have any expectations coming into the tournament because I didn't really know what to expect. All we really wanted to do was enjoy the experience and put our best foot forward. We also wanted to be classy and the squad showed their class this evening. I'm just so proud of the team."
Bermuda got off to a storming start and immediately took control of the early proceedings. Despite David Lunn missing a difficult third minute penalty opportunity, Barnwell's side broke the deadlock just four minutes later with the evening's opening try.
A free-flowing move, which started with Dustin Archibald breaking through Canada's defensive line, ultimately saw the ball worked out to the right-hand side to Mikey Dill, who crashed over in the corner. Lunn was again unfortunate with the difficult conversion, having to kick into the high gusts.
Canada responded strongly to the setback and hit back with an unconverted try of their own after a period of prolonged pressure. Creating an overload on the right-hand flank, Conrad Rybkowski was able to go over and level the score at 5-5.
However, just three minutes later, Bermuda were back in front as Rory O'Kelly-Lynch found a gap in the defensive line to break through and race away to score. This time Lunn added the simple extras to take the scoreline to 12-5.
Just before the interval, Bermuda were gifted another penalty opportunity, which Lunn duly took advantage of, slotting the ball between the posts from a difficult angle to extend his side's advantage to 15-5 heading into the break.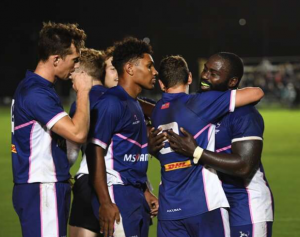 The second-half proved a much more tentative affair with both sides nullifying each other for the first 20 minutes. However, Bermuda did manage to add one final try with eight minutes remaining, as an incisive breakaway from Mike Kelly and Tom Greenslade resulted in another overload, which led to Chris Mewett being released into space to race clear down the left flank and score.
Lunn failed to add the extras, but it proved insignificant as Bermuda played out the remaining minutes without trouble to secure the victory, with the final whistle bringing delight from the bench and home crowd alike.
• There was also a dominant display from France Classic Rugby,. who brushed aside Lions Legends in a comprehensive 22-0 victory.
France stormed into a 14-0 lead by the midway point of the first half, courtesy of tries from Mathieu Amoros and Benoit Marfaing, with both being followed by successful conversions from Anthony Lagardere.
Right on the stroke of half time a further three points were added as Lagardere slotted a brilliant penalty attempt through the posts to gift his side a 17-0 advantage at the interval.
The Lions finally found a foothold in the match at the start of the second half, but despite a period of prolonged pressure, they could not find a way through the dogged French defensive line.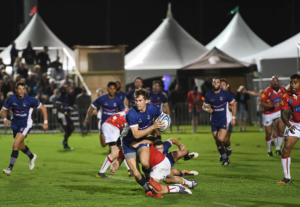 A spell of ill-discipline from France then gifted the Lions a golden opportunity to find a way back into the game as both Paul Marroc and Stanislas Durand received yellow cards in quick succession and were sin-binned for ten minute spells to reduce the French to 13 players for at least an eight-minute period.
However, despite their numerical advantage, the Lions still could not breach the France defence, and with Marroc returning to the field, the French team managed to extend their advantage with Julien Saubade scoring an unconverted try to wrap up proceedings.
Action returns tomorrow with Rugby Canada taking on France Classic Rugby, with Bermuda returning to the field on Thursday, when they face Lions Rugby Legends.