The Bermuda Rugby Football Union have named the National Men's and Women's 7s teams who will represent Bermuda in the Rugby America North [RAN] 7s Tournament in Barbados this weekend.
A spokesperson said, "The Men's team, who placed sixth overall last year, will face tough opposition in their pool play against Mexico, Turks and Caicos Islands and Guadeloupe.
"The team will once again be led by Fijian Rugby 7s legend Waisale Serevi, who has coached them through RAN 7s for the past several years."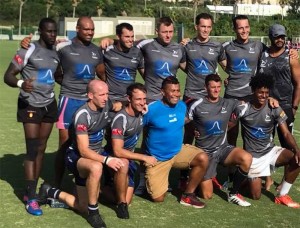 Of the upcoming tournament, Mr. Serevi said, "It's good to be back with the Bermuda team. I have watched the boys progress over the last 8 years and I have seen a lot of improvement skill-wise and in their understanding of the game.
"I watched them play in Denver and they played really well. In attack they were able to break high-level defensive lines several times. This is definitely the strongest team that we have ever had for Bermuda. This year, we have 12 very strong players, who will work together to deliver a good result. I believe that this will be a good year for us to have the opportunity to win the RAN tournament and qualify for the Hong Kong 7s.
"The boys have been training really hard and their fitness is good so it's all about just believing in ourselves come game time. The team has matured significantly this year and I am looking forward to watching them perform over the weekend."
"A mix of experience and skill in Barbados will represent Bermuda as four members of the team make their senior international debuts. Captained by Tashon Desilva, Bermuda will see Corey Boyce, Aldo Campbell, Dan Cole, Alex Doyling, Tom Healy, Bertie Horsefield, and Neville Zuill returning to the tournament. Tadhg O'Shaughnessy, Stephan Smit, Alex Brown and Jamie Baum will all receive their first international caps when they take the field in Barbados.
"After a tough tournament last year, the Women's team are looking to improve upon their result with the help of new coaching staff, Jamie Barnwell and Keith Hodgkins. Pool play will see the women face off against Jamaica, Trinidad and Tobago, Bahamas and Curacao."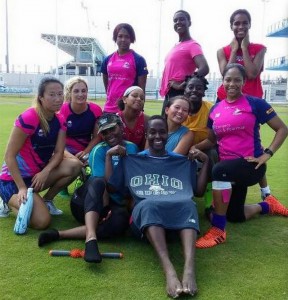 "The squad will look to their experienced players to make a statement on the pitch, while two youth players will make their international debut.
"The squad will feature returning player Gillian Cross [captain], Mika Tomita, Deneka Borden, Amanda Swan, Karly Alleyne, Lauren Rothwell, Corrie Cross, Cerise Woodley and Lysmeiri Santana Suazo. Youth players Keonte While and Camille Chin-Gurret have both represented Bermuda on a youth international tour, and will make their first senior appearance in Barbados."
Of the upcoming tournament, coach Barnwell remarked, "The RAN 7's competition, periodically serves as the regional qualifying competition for the Rugby World Cup Sevens and Olympic Sevens. Whilst qualifications for these tournaments are perhaps objectives for the future the current playing squad is comprised of quality people who have worked incredibly hard in light of many setbacks.
"Those of us who are inspired to believe that 'good people beget good things' may see this as the reason why the Bermuda Women's Rugby Team have enjoyed some success in their recent warm-up preparations. As part of their preparations the team played twice against the U19 Bermuda Men's team last week.
"They performed well in both games managing to win the first encounter and narrowly lose by four tries to three in the second game. The reality is that we all need to be inspired and motivated and many of the stories of these women will do just that".