"Congratulations — you're not dead or paralysed".
These words from a medical specialist are never far from mind for Bermuda women's rugby sevens player Deneka Borden. In 2016, Borden was involved in a serious car accident that left her with a list of critical injuries and questioning how she would ever recover, let alone play her beloved rugby again.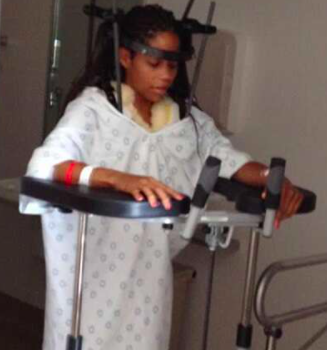 Fast forward to 2020 and there are remarkably no signs of the broken back, neck and ribs, or the ruptured spleen, kidney and liver she sustained in the accident — "It's like a brand-new neck," she said as she explained how she defied the odds and is back playing for Bermuda as well as for the Mariners Rugby Football Club.
Not only that, Borden has also taken on the role of assistant coach with the national team, become a passionate supporter of women's development in rugby, and gained qualifications in refereeing, making her one of the first female referees in Bermuda and demonstrating the strength of her drive and determination.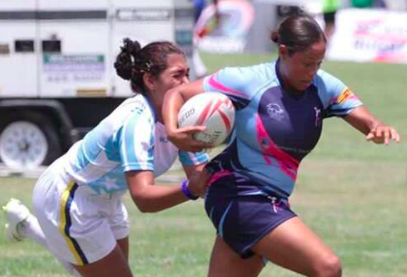 Borden started playing rugby in 2009 when a friend introduced her to the Mariners Touch Team and has been playing ever since. In the same year, she won the Most Improved Player award and was consecutively awarded Player of the Year from 2010 to 2015.
It wasn't until 2013 that she began her career in contact rugby. "We don't have a permanent women's contact league, so I was only interested in touch rugby — ironically I also didn't want to get injured," said Borden, who went on to represent Bermuda in contact rugby tournaments, including Rugby Americas North, in the Cayman Islands, Mexico, Canada and Bermuda from 2013 to 2015.
"When I eventually said yes to some contact training, I really enjoyed it and decided to play.
"Those tournaments were definite highlights for me, especially because I was part of the first women's team for Bermuda."
Recalling the accident in June 2016 that changed her life for ever, Borden added: "I just remember waking up on the road in pain.
"I was in the Intensive Care Unit for almost a week while doctors assessed my injuries and waited for a neck halo brace to be shipped into Bermuda. I was then transferred to the ward with the halo attached to my head so my bones could start healing."
She remained in hospital for another week before being sent home with strict instructions for minimal movement and no leaning forward due to the risk of snapping her spinal cord. She stayed at home for the next three months living in the halo brace, only venturing out to get routine medical scans.
"Originally I thought 'I'm a fast healer, it will only take six weeks like any broken bone', but after I saw that my neck was actually disconnected I realised it was going to be a long road," she said.
By the end of September 2016, scans showed that some of Borden's neck bones had reconnected — the halo was removed and replaced by a neck brace.
"I've always been an active person, so it was hard for me without much movement. I had to accept that I could only go as fast as my body would allow and just wait for green light to exercise again," she added.
In December 2016, Borden was cleared for basic exercise and began the journey of physically rebuilding her body. "Initially I was only focused strengthening my neck and back," she says. "But once I could feel myself getting stronger, I turned my attention to rugby again and just kept pushing."
She believes a big part of her motivation came from the support of her family and friends, as well as, of course, the rugby community.
"Once I could go out, I would go and watch the local games with my mum just so I could be in that atmosphere, which made me even more driven to play again," she said.
Almost a year after the accident, her vision became a reality when her medical team said she could finally return to the field.
"Coming back is obviously an incredible highlight. Although it was the end of the season, I was determined to still get out there," she added.
And get out there she did. Not only did she stretch her legs in a game, she scored the three tries that won the Mariners the 2017 Scully Cup and became team captain at the start of the next season.
Borden earned her way back on to the national team and once again represented Bermuda internationally from 2017 to 2019.
While she was sidelined, she developed a strong interest in coaching and in 2018 transitioned into the role of assistant coach for the women' s national team.
This leadership opportunity led to her being one of the driving forces behind the first women's contact league in Bermuda, albeit temporary, with women coaches, referees and teams — an historic milestone for rugby on the island.
Last year Borden also undertook her referee training qualifications, adding to her list of off-field rugby achievements, but continued to play at every chance.
Moving into 2021, she remains committed to growing the game in Bermuda.
"I want us to establish a permanent women's contact league and to help our players take advantage of the amazing development opportunities that are available through rugby, both here and abroad," she added. "I'm a diehard player, so I will also continue to play for as long as I can."
What has the accident taught her?
"Patience," she says. "And that anything can happen at any time. I want to use my experience to remind others to focus on what's important in life and to do what makes them happy. Rugby makes me happy, so I am devoting my time to the game for future generations to benefit from all it has to offer".
• This article originally featured on the Rugby Americas North website