The Bermuda Men's National Sevens team won the Bermuda Rugby Football Union's Sevens Tournament at the National Sports Center.
The Police defeated the Mariners 38 – 5, the Police got tries from Darren Klein, Adam Rossiedes, Henry Johnson, Vaughn van Oudtshoorn, Ben Greene and Andrew Kemp, while Dillon Marshall kicked 3 Conversions and Darren Richardson added another, Chakote Wainwright scored the lone try for the Mariners.
The Renegades defeated the Teachers 17 – 7, the Renegades got single tries from Dave Wheatley, Matt Keilo and Robin Bricknell, while Paul Kelly kicked 1 Conversion, Adam Chavez scored the lone try for the Teachers, with George Peets kicking the Conversion.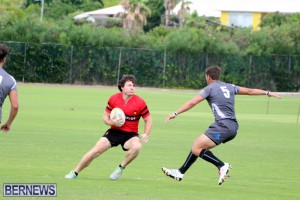 The National team defeated the Mariners 26 – 0, Antonio Perinchief, Dan Cole, Cory Boyce and Stefan Smitt all went over for a try, while Dan Cole kicked 3 Conversions.
The National team defeated the Police 49 – 0. Cory Boyce scored 4 tries, with Tashon DeSilva, Tom Healy, Bertie Horsefield and Jamie Baum all adding a try each, while Dan Cole kicked 6 Conversions.
Adam Chaves, George Francis, Donald Folkhard, Mikael Dill all scored a try each to guide the Teachers to a 24 – 21 win over the Mariners, Dill kicked 2 Conversions for the Teachers. Mike Kelly would score 2 tries and Chakote Wainwright added another, Wainwright would also connect on 2 Conversions for the Mariners.
Cory Boyce scored three tries and Dan Cole kicked 3 Conversions guiding the National team to a 21 – 0 win over the Renegades.
The Police went down 7 – 0 to the National team, with Tom Healy scoring the try and Dan Cole kicking the Conversion.