Bermuda Men's and Women's National Rugby Sevens teams arrived back on the island after making a strong showing at the Rugby America North 7s Tournament in Barbados.
The Bermuda Men's team finished third while the Women finished 8th, both teams improved on their placements from the previous tournament.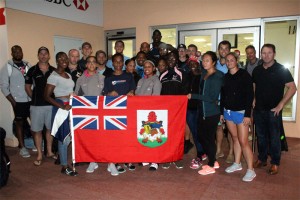 The Bermuda Men's team consisted of Tashon Desilva, Corey Boyce, Aldo Campbell, Dan Cole, Alex Doyling, Tom Healy, Bertie Horsefield, Neville Zuill, Tadhg O'Shaughnessy, Stephan Smit, Alex Brown and Jamie Baum.
The Bermuda Women's team included Gillian Cross, Mika Tomita, Deneka Borden, Amanda Swan, Karly Alleyne, Lauren Rothwell, Corrie Cross, Cerise Woodley, Lysmeiri Santana Suazo, Keonte While and Camille Chin-Gurret.