The Bermuda Rugby 10s tournament came to a conclusion on Saturday, with Bermuda Police dominating the two weekend event and going undefeated.
A spokesperson explained, "10s is not a widely known hybrid of rugby and is a combination of the speed pace and hectic fury of sevens mingled with the physicality and technical points around the contact area that the full 15 game is renown for.
"The four clubs all field good sides and thoroughly competitive round robin tournament was had. The first weekend saw the opening match between Renegades and Teachers come down to a missed drop kick conversion – this set the tone for the rest of event with several nail biting games determined by the finest of margins.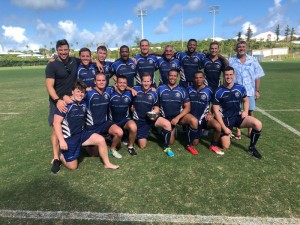 "The return of the National team sevens players from their incredible 3rd place finish in the recent RAN 7s in Barbados saw even more speed and pace injected. All in all, a fantastic two weekends of rugby with Police going undefeated and winning their second piece of silverware of the young 2018-19 season.
"This upcoming weekend sees both men's and women's action in the Annual Mad Hatters Tournament at the National Sports Complex.
BRFU 10s
"Last weeks results: Renegades 26. Teachers 28 Mariners 0 Police 22 Teachers 17 Police 22 Mariners 10 Renegades 24 Renegades 5 Police 29 Teacher 31 Mariners. 12
"This weeks results:
Teacher 19. Police 24
Renegades 17. Mariners 17
Teachers 47 Renegades 10
Police 26. Mariners 5
Police 17 Renegades 10
Mariner 0 Teachers 27
Police win the BRFU 10s